BayoTech is marketing the world's first compact mobile hydrogen generators, expects to establish up to 100 hydrogen hubs nationwide by 2027 to provide local, on-site production, fueling and distribution services for customers in nearby communities. Its first plant, or hub, will be up and running in early 2023 in Wentzville, Missouri, followed by five more in Michigan, Oklahoma and California over the next year.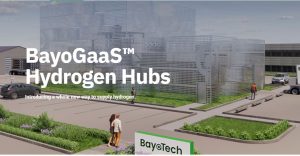 The company launched in 2015 to commercialize technology originally created at Sandia National Laboratories to provide on-site mobile hydrogen generation directly where it's needed for commercial and industrial use. It's spent seven years fully developing the technology, which the company says can radically lower costs for end users compared with today's standard production at large, centralized plants.
Those mammoth facilities, which can produce about 1,000 tons of hydrogen per day, generally cost more than $200 million to build and require at least two years for construction, In contrast, BayoTech's compact generators allow the company to construct small, distributed hubs that can produce about 1 ton per day, but only cost about $10 million and just 12 months to install.
Environmental organizations generally oppose hydrogen technology like BayoTech's that relies on natural gas as a feedstock to pull hydrogen molecules out of methane, emitting substantial amounts of carbon in the process. They prefer electrolysis technology, which extracts hydrogen from water with no carbon emissions.
But BayoTech says the production efficiencies created by its compact technology, combined with on-site operations that minimize transportation to deliver hydrogen to end users, can immediately cut carbon emissions by at least 40%. And the company is now working on alternative methane feedstocks like waste from dairy operations and landfills to reach net-zero, or even negative, emissions.
The company is emerging as a front-runner in the hydrogen economy. It's raised more than $200 million in private investment, and it's established a manufacturing partnership with Farmington-based Process Equipment & Service Co. to build its hydrogen production units. The first three generators are now rolling off the PESCO assembly line for installation early next year at BayoTech's first hub in Missouri.
This is an abridged version of a story written by  BY KEVIN ROBINSON-AVILA / JOURNAL STAFF WRITER of the Albuquerque Journal.  THURSDAY, OCTOBER 27TH
Full Story. https: //www.abqjournal.com/2544030/bayotech-to-run-national-hydrogen-plants-from-abq-hub.html