GasTechno has developed a groundbreaking gas-to-liquids (GTL) conversion process, enabling the transformation of carbon and methane emissions into valuable fuels. Their modular GTL plants are capable of converting gas pollution on-site into usable fuel and chemicals. This highly scalable and profitable process offers a solution for converting stranded and flared gas.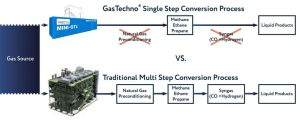 (Image- www.gastechno.com)
PROBLEM ADDRESSED: Methane is the second-largest contributor to global warming after CO2 emissions. While much attention has been given to reducing CO2, cutting methane emissions is equally critical due to its potent near-term warming effect. By capturing and converting methane into clean, renewable energy, we can make significant progress toward achieving global climate goals.
SOLUTION: GTL plants play a vital role in decarbonization efforts by converting carbon and methane emissions into usable fuels and chemicals, making industries more environmentally friendly.
MARKET: This technology benefits various stakeholders, including large renewable energy developers, corporations, and government sponsors seeking to produce low-carbon renewable fuels and chemicals. Immediate applications can be found in landfills, dairy farms, wastewater treatment plants, and other stranded gas sites.
TECHNOLOGY: GasTechno employs a non-catalytic technology that converts hydrocarbons to fuel through a homogeneous partial oxidation reaction using oxygen and methane. This innovative approach yields value-added liquid oxygenates.
ORIGINS: GasTechno's research and development journey began in 2004, and by 2010, they successfully operated their first pilot facility, converting natural gas into market-ready products like methanol and ethanol.
EVIDENCE: The effectiveness of GasTechno's patents and process has been recognized by numerous independent industry professionals, including the World Bank's Global Gas Flaring Reduction program.
MILESTONES AND FUTURE PLANS: In August 2013, the company rolled out its first modular commercial unit, utilizing associated flared gas. They hold an impressive portfolio of single-step gas-to-methanol patents and recently acquired a 34-acre industrial site in Michigan to start manufacturing Mini-GTL renewable fuels plants.
The company plans to license and sell Mini-GTL plants for deployment at stranded gas sites, producing renewable liquid fuels. Each plant can generate up to 3,000 gallons per day of renewable methanol-ethanol and is designed to fit inside shipping containers, enabling rapid deployment. GasTechno aims to build 27 Energy Centers within the next 10 years, providing on-site power generated from renewable methanol and supplying low-to-negative carbon intensity fuels like hydrogen, DME, diesel, and jet fuel. They also plan to establish electric fast-charging stations for the truck and semi-truck markets.
MANAGEMENT: Walter Breidenstein leads GasTechno.
FINANCE: The company is currently seeking a merger combination from a short list of SPACS and public corporations in the low carbon fuels sector. Their annual revenue target within 7 years is set between $3-7 billion.
To receive an investment package on this company, please complete this short survey.