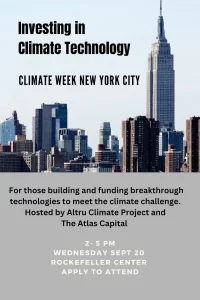 Climate Week in New York is just around the corner, and if you're as passionate about climate action as we are, then you won't want to miss what we have in store for you on September 20th. We're thrilled to invite you to the Climate Tech Investment Forum, a groundbreaking event hosted by Altru Institute and Atlas Capital.
What to Expect:
🤝 Connect with Top Players in Climate Tech: Our forum is your chance to network w ith industry leaders, including family offices, high-net-worth individuals, and climate tech entrepreneurs. These are the movers and shakers who are driving positive change in the world.
🔍 Explore Crucial Topics: Dive deep into discussions on pressing topics such as climate investing, the critical role family offices play in advancing climate solutions, and the latest technological innovations that are propelling sustainability forward.
Event Details:
🏙️ Location: The iconic Rockefeller Center, located in the heart of New York City.
🕑 Date and Time:September 20th, from 2 pm to 5 pm, followed by a reception where you can continue the conversation and make valuable connections.
How to Attend:
This is your opportunity to be an active participant in the climate solution. Attendance is by invitation only, so secure your spot by applying for an invite today. Let's work together to create a more sustainable future!
Follow the link and click on Register: https://www.altruinstitute.com/
If you have any questions or require assistance, please don't hesitate to contact Asya@altruinstitute.com
See you there! 🌱