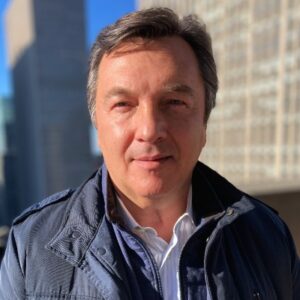 Ippolito Leotta, born in Italy in 1962, embarked on his television career in Milan during the early 1980s.
His association with Inter TV, a leading content provider for the emerging Italian television market, allowed him to collaborate with some of Italy's finest journalistic and creative talents, marking the inception of his successful journey in television.
In 1982, he made the move to Baltimore, Maryland, joining ABC to work on experimental programs. By 1987, he had relocated to New York, where he contributed his expertise to CBS and Eurovision Americas, simultaneously building a freelance career.
In 1990, Ippolito Leotta established the Global Vision Group (GVG). GVG was founded with the vision of producing creative video content for both domestic and international broadcasters in the USA, solidifying partnerships with some of Europe's most prestigious networks. Since its inception, GVG has transitioned from a news gathering organization into a versatile media company.
Professionally, Mr. Leotta firmly believes that "all business is personal." He places a strong emphasis on assembling a diverse and creative team to continually integrate fresh ideas. Within the group, one can encounter individuals from various nationalities, each making unique contributions that exemplify Mr. Leotta's expertise in this specialized market.
Mr. Leotta currently resides in New York.