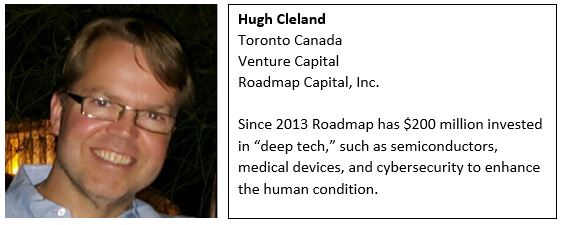 Hugh Cleland is a Co-Founder and Principal at Roadmap Capital Inc., a venture capital investment platform based in Toronto, Canada.
Since its establishment in August 2013, Roadmap Capital has been dedicated to investing in disruptive technologies that enhance the human condition. The company focuses on ventures operating in the realm of "deep tech," particularly in areas like semiconductors, medical devices, and cybersecurity.
With investments totaling over $200 million, Roadmap Capital seeks technologies that provide a 10x improvement over existing solutions or address unmet needs in the market.
A unique aspect of Roadmap Capital's investment approach is the emphasis on "scale-up capital" for Canadian companies. These companies typically work on technologies rooted in "hard science," often possessing strong intellectual property and technology-based barriers to entry.
Hugh Cleland and his team have garnered capital from private sources, including ultra-high-net-worth individuals and families who trust in Roadmap Capital's deep domain expertise.
Notable investments in Roadmap Capital's portfolio include companies such as Perimeter Medical Imaging AI, Ubilite, Corsa Technology, GEO Semiconductor, Peraso Technologies, and LiquiGlide. Hugh Cleland's role extends beyond investment, as he serves as a Board Member in various companies within the portfolio, including CHAR Technologies Ltd., Corsa Security, Perimeter Medical Imaging AI, Ubilite, and Peraso Technologies.
Hugh Cleland's commitment to driving innovation and fostering growth in disruptive technology companies reflects a deep understanding of venture capital, technology, and the importance of investing in transformative technologies.
Mr. Cleland currently resides in Toronto, Ontario Canada. To reach Mr. Cleland email us at members@altruinstitute.com and we will make an introduction.