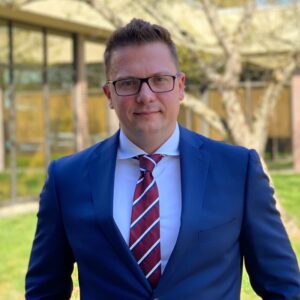 Denys Gurak, born on July 1, 1986, in Kyiv, Ukraine, is a professional with diverse experience in both public and private sectors.
He pursued his education with a bachelor's degree in law from the Ukrainian Academy of Foreign Trade. Further academic achievements include European Union law studies at the University of Amsterdam, leading to a Master of Laws (LLM) degree.
He also completed a mini-MBA program at the International Management Institute (MIM-Kyiv) in 2014. In 2017, he obtained a second degree in "Management of social development" from the National Academy of Public Administration under the President of Ukraine.
Gurak commenced his career in law firms, specializing in corporate, competition, financial law, and foreign trade. His roles included directing the "GMP/GDP Center" at the State Service of Ukraine on Medicines and Drugs Control.
In 2014, he joined the State Concern "Ukroboronprom" as the Deputy Director General for foreign economic activity, participating in the reform efforts. He played a key role in coordinating international business and represented Ukraine's defense industry in cooperation with NATO.
Denys Gurak's commitment and achievements in the defense industry were recognized with the Silver National Defense Medal from the Ministry of Defense of France.
Mr. Gurak resides in Connecticut.