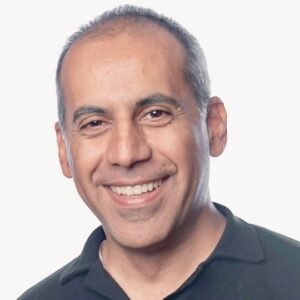 Kamran Fallahpour is a Licensed Clinical Psychologist and Neuroscientist with over 25 years of expertise in clinical and research applications of neurophysiology, health psychology, and brain health.
Specializing in neurotechnology, applied neuroscience, neuromodulation techniques, and brain mapping, Kamran seamlessly integrates the latest neuroscience findings into clinical psychology.
His work has been published in respected journals, including the American Association Psychiatry, Archives of Clinical Psychopathology, and Oxford Journals. He has been featured in prominent media outlets such as Radio Labs, Fast Company, Brain Games, Randi Zuckerberg's SiriusXM Radio show, and National Geographic.
Kamran's specialties encompass neurotechnology, applied neuroscience, and Neuromodulation techniques, which he leverages to help clients enhance self-regulation, mood control, and cognitive performance in both clinical practice and peak performance settings. In addition to his work with Vital Neuro and Brain Resource Center, Kamran serves as an instructor in clinical psychology at the Mt. Sinai West Department of Psychiatry.
His academic journey includes earning a PhD in Clinical Psychology from Fielding Graduate University, a Master's Degree in Psychology from New York University, and a Bachelor's degree in Psychology from California State University, Los Angeles.
This well-rounded educational foundation, combined with his extensive professional experience, positions him as a leader in the field of applied neuroscience and clinical psychology.
Mr. Fallahpour resides in New York.