The Climate Progress Report delivers crisp headlines of progress at companies developing, in many cases, breakthroughs.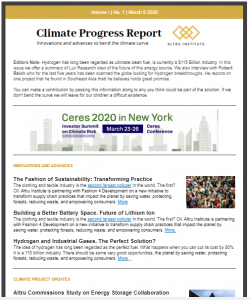 For companies it provides a means to accomplish the critical function of communicating progress. Its editorial content has three themes:
Profiles Members. Introduction to the company and technologies.
Ongoing Coverage Progress. Update on newsworthy developments.
Events and Developments. Useful conferences and other important developments.
A quick read to stay current with the important developments climate and sustainability
To subscribe click here.  For advertising information contact us at subscribe@altruinstitute.com.