Due Diligence Investment Package.
 Altru Investment Network. 
Full Due Diligence Documentation. Complete information of all the topics listed below is available as well as a password protected "deal room" with all the documentation needed to complete an investment transaction.
Executive Summary is anchored by a 10 page profile and CEO interview.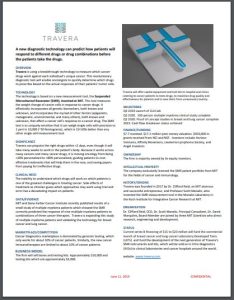 OVERVIEW
TECHNOLOGY
SIGNIFICANCE
CLINICAL NEED
DATA/EVIDENCE
MARKETPLACE/COMPETITION
BUSINESS MODEL.
MILESTONES
FINANCE/FUNDING
 OWNERSHIP
INTELLECTUAL PROPERTY
HISTORY/ORIGINS
STATUS
Travera Investment Summary Altru
Explainer Documentary Sample. For most firms we provide a multi media assets about the firm.  See sample below.
---
For each of the ten sections below we provide through information. We conduct audits to verify the statements made by management.
THE IDEA
The concept, technology, service
Value created
Intellectual property discussion
Origins and history
SIGNFICANCE/IMPACT
Who impacted
Why important
DATA/EVIDENCE
MARKETPLACE
Market analysis
Competitive landscape
Addressable market
Customer profile
THE BUSINESS MODEL
How the projects sustains itself
MILESTONES AND METRICS
Timeline
Measuring success
FINANCING
Past financings and valuations
Future financings and timing
Exit opportunities. Liquidity
OWNERSHIP
Capitalization chart
Governance
Shareholder agreement
INVESTORS
GROWTH STRATEGY
Markets and approach
Projections
---
The following documents are available in a password protected "deal room"
FINANCIALS
Budgets
Income Statements
Cash flows
SUMMARY DUE DILIGENCE
Field Reports
Interviews and transcripts
Risk factors
Intellectual Property analysis
Risk Reward Analysis
Global Scalability
DOCUMENTS
Investment Deck
Business Plan
Offering Summary. Term sheet
Private Placement Memorandum
Subscription Agreements
Customer Agreements
Lease obligations. Long term
Management contracts agreements
Audited or Reviewed Financials
 Contact us for more information at  info@altruinstitute.com