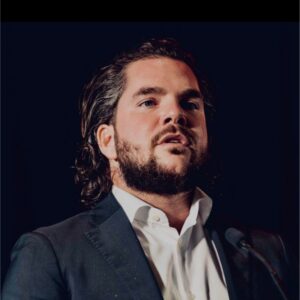 George Bos, born on July 18, 1991, in the Netherlands, is the Founder of The Water Company (TWC®️) and a globally-oriented entrepreneur.
He has lived in the USA, China, and Russia and is dedicated to reshaping the industrial water industry. Endorsed by former Dutch Prime Minister H.E. Jan Peter Balkenende, he is driving TWC's global initiatives, with a focus on the Middle East and Central America, collaborating with prominent figures such as Nadhmi Al-Nasr, Peter Terium, and H.E. Mr. Rodrigo Chaves Robles, President of Costa Rica, to introduce groundbreaking solutions.
Bos began his journey with a student newspaper in Amsterdam at 19, which evolved into a media company operating in seven Dutch cities. He pursued his education at the Amsterdam University of Applied Sciences, San Diego State University, and Donghua University in Shanghai, gaining insights into international trade.
In China, he visited 40 pollution-intensive factories, inspiring his commitment to reducing harmful waste and providing clean water globally. He addressed thousands of young minds at the Sondersland Talent Festival in Madrid and spoke at Forbes' first 30 Under 30 Summit in Africa.
Currently, as the Secretary General Europe at the United Nations International Peace & Governance Council, endorsed by the Dutch Parliament, George Bos is dedicated to realizing his vision for a better, more sustainable world. He also volunteers with the Clean Water For All, Forever…. Foundation in Geneva, Switzerland, aiming to reduce harmful waste in nature and improve access to clean water.
Mr. Bos currently resides in Switzerland.